Australia calls for adventure, and one of the best adventures you can find is lived by the sea. And it is that in the best beaches in Australia There is much more to do than just sit and sunbathe for a few hours. However, the country is full of different beaches and the best thing is to know which ones you can't miss.
In Global Connection We want to help you put together your study trip itinerary correctly and find the closest beach to your destination.
So get your surfboard and swimsuit ready to discover the best beaches in Australia.
Bondi Beach, Sydney's most popular beach
If we are going to talk about beaches in Australia, we have to talk about Sydney's most popular beach and that is Bondi Beach, east of the city.
While it may not be the prettiest beach in Sydney, it is one of the most loved by the city's residents and tourists. So if you decide study in sydney, this must be one of the beaches that you cannot miss.
On this beach you will not only find a place to enjoy the tropical climate of Australia, you can also visit bars, restaurants and shops that make visiting this beach a very complete plan where you will never have a bad time, no matter what you want to do.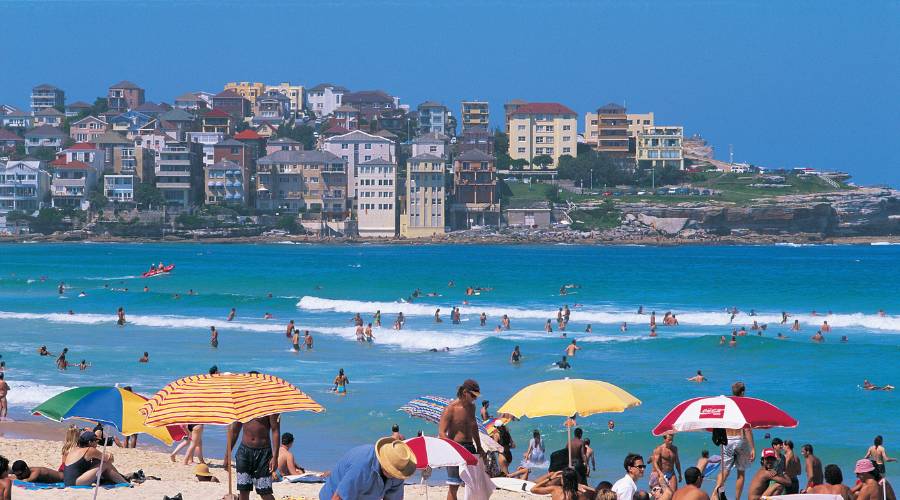 Surfers Paradise, one of Australia's beaches ideal for surfers
Just as there are quiet beaches to relax and have a good time between the sand and the sun, there are also beaches for those who enjoy one of the extreme sports par excellence of the most famous beaches. And in Australia there is a beach that has been named after surfer's paradise.
Surfers Paradise is a true wave factory for those who like to enjoy this sport or want to start practicing it.
Thanks to this famous place, Gold Coast It has become one of the most popular tourist attractions in the state of Queensland. So this beach is a very interesting visit if you are studying English in Brisbane or in the city of the Gold Coast itself.
St. Kilda, Melbourne's flagship beach
Every coastal city in the world has a signature beach that everyone wants to visit, and the Melbourne's flagship beach It's St. Kilda.
This beach is located south of the city and is characterized by its long 6 kilometers where you can take a quiet swim, windsurf or even visit St. Kilda Bay.
Although its greatest attraction is its famous colorful huts that look directly at the sea, an image of Melbourne that has taken it around the world.
The 12 Apostles, one of the most impressive beaches in Australia
Perhaps this beach is not focused on tourists who want to swim and rest on the sand. However, this beach in Australia is characterized by large peaks that protrude from the sea just a few meters from the beach.
If you take a road trip through the Great Ocean Road You can pass through this place and get to know that impressive landscape.
This place is part of the wonderful Port Campbell National Park in the state of Victoria. One of the impressive natural parks in Australia.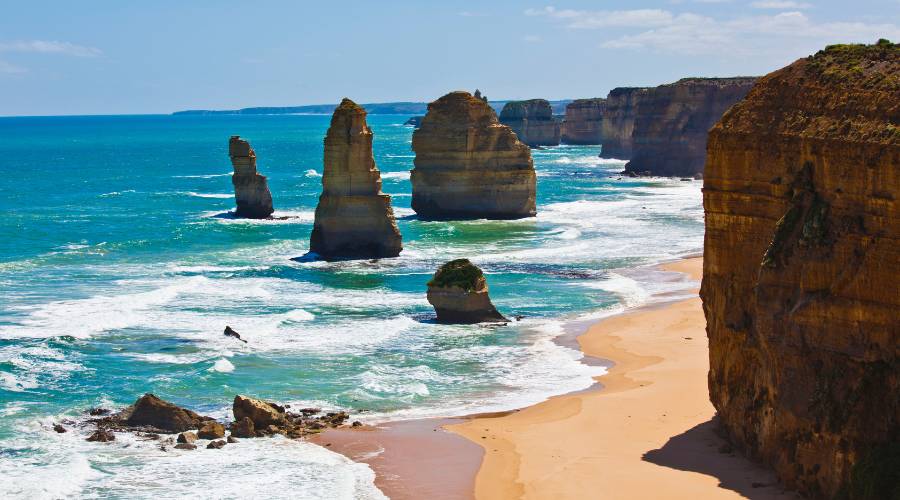 South Bank Parklands, an artificial beach in Brisbane
We can't talk about beaches in Australia that you should visit and leave behind Brisbane's most popular beach which is right in the center of the city: lThe man-made beach at South Bank Parklands in Brisbane.
This city is about 3 hours from the Gold Coast, but if you have plans to study english in Brisbane and you want to enjoy a closer beach, you can visit the banks of the river that runs through the city.
So on this beach you can enjoy the excellent climate that characterizes the city of Brisbane without having to go far.
If you are interested in any of these destinations, complement it with a English course in Australia or an academic program in the country. If you want to learn more about our programs in Australia, Contact us here.