Learning a new language is not an easy thing, there are many details that can result in feeling that you are not advancing in your learning or that you simply cannot master it. But there is no impossible goal if you know the keys to learning.
So today at Global Connection we want to tell you about some tricks that will help you improve your skills with the new language you are learning.
Apply them inside de your learning and you will notice how you improve quickly.
Immerse yourself in the language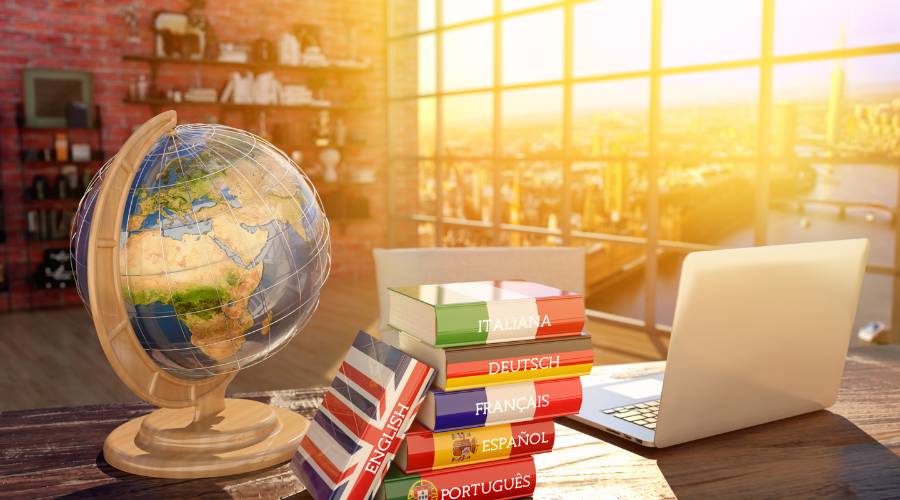 This sounds a bit curious, however, it is the most important advice when learning a new language.
And within learning you can have a large vocabulary and know a lot about grammar. But if you don't know how to use it naturally and in different conversations, you won't be able to advance your language skills.
That is why it is ideal to completely immerse yourself in the language, listen to it and practice it every time you have the opportunity. Listen to songs and podcasts in the language you are learning, but also write and talk to yourself in the language you are learning.
The important thing here is that the more you use it, the more your mind adapts to this new language.
One of the best ways to immerse yourself in the language is study in a destination abroad. Doing this to a certain extent is forcing yourself to practice the language on a daily basis, over time you will see improvements in your study trip.

At Global Connection we have ideal destinations to do language courses in different destinations so you can learn the language you want.
Relevance is key to learning a new language
It won't do you any good to spend hours studying manuals and textbooks if you don't see a clear application in your life. It is precisely there where you can show your progress.
Have a clear objective about what you are looking for when learning this language. This will help you find the relevance of what you are doing and set much clearer objectives.
Now, the conversations you have to practice the language must also be relevant to this objective. In addition, practicing these conversations will also help you be creative and resourceful to make yourself understood.
Learning a new language should be fun
If you are not enjoying yourself while learning the language, you may be wasting your time. The most efficient way to learn a new language is to have fun while you learn.
And this may sound a bit trite, but in the case of languages it is very important because the ideal when learning this is to make it something natural inside your head, and the best way to do this is have a good time while you learn it.
Look for activities that help you practice and in which you are having fun. For example: if you really like to sing, a good technique is to find a repertoire of your favorite songs in the language you are learning and sing them every time you have the opportunity.
If you like to read, you can get books in English that help you improve your vocabulary and that you come to like.
If you like to travel and see new places, You can take a course abroad that allows you to study and explore your favorite destination. Something that at Global Connection we can help you with.
Anyway, when you are learning always remember to have fun.
Learn like a child
If there is something we should try to maintain in our lives, it is the way a child learns. And when learning a language this is key.
Many studies have shown that children's ability to learn is amazing and it is not that difficult for an adult to regain that same ability.
In reality, there are three fundamental attitudes to achieve this: the lack of social shame, the ability to play with what you are learning and the willingness to make mistakes.
Learning a language is much easier and faster doing this. Above all, accept that you don't know everything and that you are willing to make mistakes to learn. Sometimes it is difficult to face the frustration of making mistakes while learning, but making mistakes is key to understanding where you need to improve.
Take a risk
To learn a new language this is important: If you stay too long in your comfort zone waiting to learn a new language quickly, you may not see many results.
When you find an opportunity to improve your language skills, don't hesitate to take it.. There may be many sacrifices to make, however, the result will be worth it.
For example, as we have already said before, Traveling to another country to learn another language can be an enriching experience.. And if you have the means and the opportunity to do so, it is an excellent decision.
We know that in a case like that there can be many risks, however, With good advice you can find the ideal course and make the most of it.
If you want advice to plan an ideal study trip, contact a Global Connection Counselor to learn about the programs we have for you.